Speedway: Leicester Lions & Sheffield Tigers owner denies match-fixing claim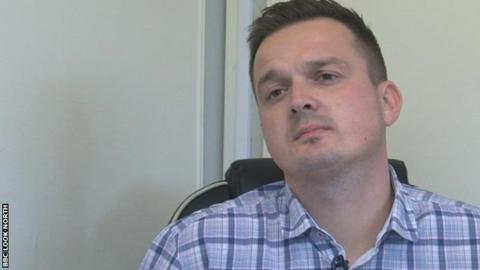 The co-owner of Leicester Lions and Sheffield Tigers speedway teams has said match-fixing claims have left him "feeling low about the sport".
The two teams met in the first leg of their promotion/relegation race-off on Monday, with Premiership side Leicester winning 58-32 in Sheffield.
The big-scoring win led to some fans suggesting the outcome had been fixed.
"I'm disappointed by how people have reacted. All we do is try our best," Damien Bates told BBC Look North.
"I've been called a liar, a cheat and a moron and I don't deserve that. People have said that I'm bent and that I fix meetings and I don't know what I'm meant to have fixed.
"Leicester were always going to come with a strong team and it's left me feeling low about the sport.
"I feel like I've had the wind kicked out of me."
Leicester finished bottom of the eight-team top tier, while Sheffield topped the 10-team second division.
Bates, who says he does not make any money from the sport, said that he wants both teams to do well.
"In real terms, Leicester would probably be better in the Championship but that is not something that we want," he added.
"In whatever league the teams are in, we will do whatever we can for them to be successful."
The British Speedway Promoters' Association said in a statement that they were "disappointed to learn of the abuse directed towards the management of both Leicester and Sheffield" and "Leicester were clearly the better team on the night and deserved their victory".
The second leg will take place in Leicester on Monday.