Fast5 Netball: Inaugural British event 'helping to break down barriers'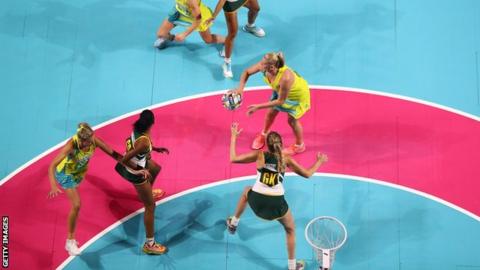 Netball - one of the world's fastest sports - is set to become even faster.
Power plays, rolling substitutions, three scoring zones and five-a-side teams are all part of the more marketable short from of the game - Fast5 netball.
And in a bid to bring the sport to a wider audience, the inaugural British Fast5 All-Stars tournament will be launched in London on Saturday.
"Fast5 is helping to break down barriers if people still think netball's a playground sport," says England Netball CEO Joanna Adams.
"It's a bit like Twenty20 cricket. It's fast, it's fun and vastly different from the traditional form of the game."
England Netball have partnered with experienced promoters Matchroom Sport to run a British competition based on the Fast5 rules.
Matches will last just 12 minutes, teams can double their points in a two-minute power-play and five-point goals are on offer for the long-shot specialists.
There's also the chance to play at the 02 arena in London for a prize fund of £100,000.
"Netball is gaining momentum and more exposure," said Matchroom director and PDC chief executive Matthew Porter.
"We became aware of Fast5 a couple of years ago. It's netball's version of T20 - fast-paced, exciting and plenty of scoring for the crowd.
Along with hiring the 02 arena, Matchroom have invested considerably in marketing and staging in a bid to "build the All-Stars brand".
"One-off events are not legacy building so our aim is to gain momentum for years two and three. We see this as an investment," added Porter.
The rules
Billed as "the world's most exciting form of netball", Fast5 was introduced in 2008 as a shorter, more explosive version of the sport.
It was quickly compared to T20 cricket and rugby sevens with players able to showcase skills, personalities and flamboyant kits in front of large crowds.
"If you love the game of netball it's an exciting way to watch it," says former Fast5 England international Tamsin Greenway and Wasps Director of Netball.
"And if you've never seen the game, it's a great way to watch in short snippets and really get into it."
Eight Superleague sides with five players per team (GS, GA, C, GD, GK)
12 minute games in a double elimination format
Teams will play up to three matches in the group stage - two wins and the team advance straight to the semi-finals
Five, three and one-point scoring zones
Rolling substitutions
Players will receive an official warning and thereafter, will be sent to the sin-bin for 30 seconds
Each team can double their points in a two-minute power-play which must be used within the first 10 minutes of the game
Centre passes taken by the team who did not score the last goal
Ones to watch
Eight of the 10 Superleague sides will be in action on Saturday, with each squad given two "All-Star" picks and a host of international stars set to take part.
Severn Stars have opted for experienced South Africans Phumza Maweni and Maryka Holtzhausen while Loughborough Lightning have also gone to the southern-hemisphere bringing in South Africa's Renske Stoltz.
Manchester Thunder though will welcome back two familiar faces in England internationals Sara Bayman and Helen Housby.
Former captain Bayman returns from New Zealand while academy graduate Housby, who scored a last-gasp goal as Thunder won the Superleague title in 2014, comes back from Australia to star for her home club.
"I'm super excited to be back in the Black and Yellow, even if it is just for a day," Housby said. "I've never played at The O2 so I can't wait."
Superleague winners Wasps have kept faith with their 2017 title-winning squad which includes England Fast5 international and "long-bomb queen" Rachel Dunn.
"Dunn can shoot from anywhere," says Wasps coach Greenway. "She's definitely one to look out for along with England under-21 star George Fisher.
"The game changes so quickly and it's so fast so you get the opportunity to shine.
"The personalities of the players come out and it gives us an opportunity to show off the entertainment side of the game."
The British Fast5 All-Stars Championship takes place at the O2 Arena, London on Saturday, 23 September.