Fast5: Loughborough win inaugural British tournament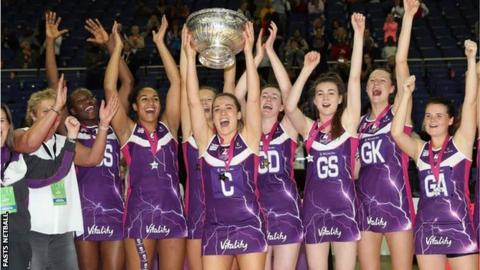 Loughborough Lightning won the inaugural British Fast5 All-Stars tournament with a last-gasp 35-33 victory over Team Bath in the final.
South African 'all-star' pick Renske Stoltz scored a five-point shot with 10 seconds left at the O2 Arena in London.
The match was Karen Atkinson's final match as Loughborough head coach.
Fast5 - described as netball's version of Twenty20 cricket - is a shorter form of the game aimed at attracting a wider audience to the sport.
Matches last only 12 minutes compared to the standard 60, teams can score double points in a two-minute power-play and five-point goals are on offer.
'Everyone was freaking out'
Lightning's combination of Stoltz and Superleague player of the year Peace Proscovia in the shooting circle got the better of the Bath defence.
"I wasn't aware of the score or the time and I didn't know it was the game-winning shot," said Stoltz.
"I looked around, everybody was freaking out and I realised we actually won.
"I enjoyed every second and it was great to be part of such an amazing event."
Atkinson brought in Stoltz to bolster Loughborough's shooting options after injuries to crucial players.
"It's brilliant," said Atkinson. "We came here wanting to win but not expecting anything as it's a really unpredictable format of the game."
Was Fast5 a success?
The event featured DJs, a 'kiss cam', a 'golden buzzer' and a £100,000 prize fund.
The netball was slow to get started - the first match of the day, a much-hyped London derby between Surrey Storm and Hertfordshire Mavericks, failed to produce a single five-point goal.
Team Bath failed to press the golden buzzer activate their two-minute power play in their first game and were saved only by the sharp shooting of England international Kadeen Corbin.
But the "world's fastest form of netball" finally took off as some of the world's best shooters put on a display.
Stoltz, at just 5ft 5in, formed a formidable partnership with Uganda captain Proscovia, who said Lightning made amends for their "painful" Superleague final defeat.
"This was a wonderful win - it was payback for us," the 27-year-old said. "It was my first time playing Fast5 and it's a fun game, without stress.
"I had one week of training with Stoltz. We found out she was good at the long shots and we gave her all the opportunities. Long shots are out of my comfort zone, so it was a matter of teamwork. Fast5 is all about the team."
The route to the final
Team Bath, led by shooters Chelsea Lewis and Corbin, recovered from their earlier mishap to join Loughborough in the final four and Superleague title holders Wasps booked their place courtesy of England U21 international George Fisher's five-point shooting.
Manchester Thunder, who brought back England internationals Sara Bayman and Helen Housby, went out to outsiders Severn Stars as Housby was upstaged by England bench-warmer Eleanor Cardwell.
The Stars, who endured a mixed first season in Superleague, saw off Hertfordshire Mavericks to claim the last semi-final berth.
Lightning, who lost the 2017 Superleague grand final to Wasps, beat Tamsin Greenway's side in the semi-finals, while Bath saw off Severn Stars.
The rules
Eight Superleague sides with five players per team
12-minute games in a double elimination format
Teams play up to three matches in the group stage - two wins and the team advance to the semi-finals
Five-, three- and one-point scoring zones
Rolling substitutions
Players will receive an official warning and thereafter, will be sent to the sin-bin for 30 seconds
Each team can double their points in a two-minute power-play which must be used within the first 10 minutes of the game
Centre passes taken by the team who did not score the last goal