BBC Sport - Carrickfergus kickboxer Bradley Beck is world champion at the age of 15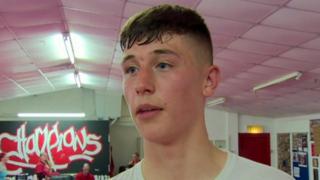 Carrick kickboxer Beck is world champion
Carrickfergus kickboxer Bradley Beck has already won a number of world title even though he is only aged 15.
Bradley started the sport at the age of only five after being the victim of bullying and says that he is glad he has opted for kickboxing as opposed to boxing.
"There are a lot more titles in kickboxing and I just the kicking as well," adds schoolboy Bradley, who is hoping to turn professional in the future.