Ulster Grand Prix 2016: Johnston out of Ulster GP after crash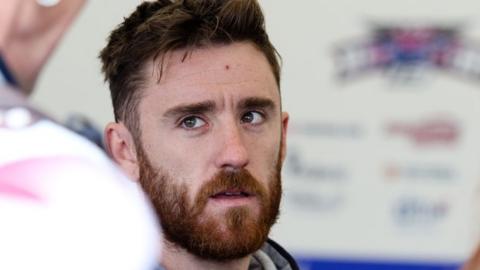 Last year's treble winner Lee Johnston has been ruled out of the Ulster Grand Prix after suffering a fractured collarbone in a practice crash.
Johnston came off during the 250cc session, in which he set the fastest speed, and was taken to hospital.
The Fermanagh rider crashed after exiting the Hairpin Bend and will be replaced by England's Gary Johnson in the East Coast Construction team.
Michael Dunlop was fastest in practice for three of the classes on Wednesday.
The Ballymoney rider topped the Superbike times with a speed of 121.602mph, faster than Derek Sheils on 120.913 and Jamie Coward at 119.803.
Dunlop also led the Superstock speeds at 121.53 and the Supersport times (117.782) as one of his main rivals, Ian Hutchinson, opted to sit out most of the day's action, which was held in miserable wet conditions.
Sheils was quickest in the Superbike practice for the Dundrod 150 races on Thursday, followed by Conor Cummins and Michael Dunlop.
Dubliner Sheils clocked 117.19mph on his Cookstown BE Engineering Suzuki with Cummins second on a Honda on 116.93 and then Dunlop on his Hawk Racing BMW on 116.35.
Bruce Anstey recorded the second quickest time in the Supersports, 117.115, with Derek McGee next at 116.332.
McGee was fastest in the Supertwins on his Cookstown BE Engineering Kawasaki at 108.11mph, then Dan Cooper with 106.85 and Michael Sweeney on 105.95.
Johnston topped the 250ccs on 103.75 before his crash, ahead of Neil Kernohan on 101.75.
Christian Elkin was best of the Ultra-lightweights with 100.183 on his Moto3 machine, followed by McGee at 96.90.
Johnston won both Supersport races and the Superstock event in the 2015 Ulster Grand Prix.
Lincolnshire rider Johnson, 35, will be seeking his first UGP triumph when he takes over Johnston's BMW machines in the Superbike and Superstock classes, plus his Triumph in the Supersports.
Johnson has four podium finishes to his name at the event and has lapped the circuit at over 133mph.
Ulster Grand Prix schedule
Thursday 11 August - Roads closed from 10:00 BST to 21:30 for practicing and five Dundrod 150 races - National Race (5 laps), Ultralightweight/Lightweight (5 laps), ), Challenge Race (5 laps), Superbike (6 laps), Supertwins (5 laps).
Saturday 13 August - Roads closed from 09:30 BST to 20:30 for seven-race Ulster Grand Prix race meeting: Superstock (6 laps), Supersport Race 1 (6 laps), Ultralightweight/Lightweight (5 laps), UGP Superbike Race (7 laps), Supertwins (5 laps), Supersport Race 2 (6 laps), Superbike Race 2 (6 laps).