BBC Sport - Away point would be good result for Republic of Ireland - Martin O'Neill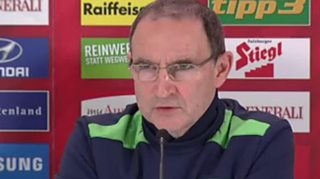 Away point good result for Republic - O'Neill
Republic of Ireland manager Martin O'Neill suggests a point away from home would be a good result for his team against Austria on Saturday night.
O'Neill said that irrespective of the result in Vienna, his team's 2018 World Cup qualification destiny will not be decided until 2017.
Republic captain Seamus Coleman claimed the players gained confidence by qualifying for the Euro 2016 finals and "truly believe we can beat teams".