Mid Antrim 150 meeting will not take place in 2017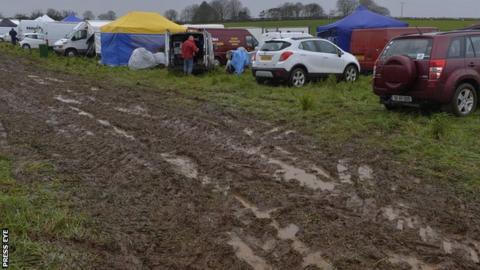 The organisers of the Mid Antrim 150 road races have confirmed that the meeting will not take place in 2017.
The Mid Antrim 150 club say inclement weather this year, combined with a poor attendance at the event, has forced the decision.
The event was dogged with heavy rain prior to race day, which resulted in the paddock turning into a quagmire.
Plans are in place for the race to return in 2018 and to become a regular event on the calendar.
The race has been dogged by setbacks over the past eight years and 2016 was the first time the meeting returned to the Irish road racing calendar since 2013, due to a shortfall in finances.
The Mid Antrim was the first national road race of 2016 after being moved to a new slot at the beginning of April.
The 2017 Irish national road racing season will begin with the Tandragee 100 on 21-22 April, followed by the Cookstown 100 on 28-29 April.
The Armoy road races will be staged on 28-29 July.