Hurling League: Antrim and Armagh involved in drawn games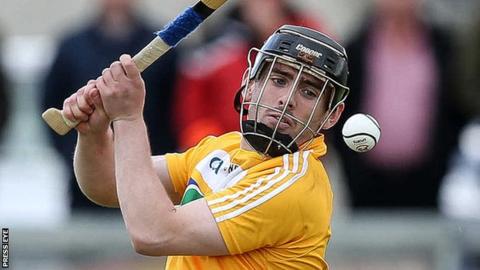 Antrim came away from Cullen Park with a hard-earned point as they drew 2-15 to 0-21 against Carlow in Division 2A of the Hurling League.
Despite scoring the only goal of the first half through Neal McAuley, the Saffrons trailed 0-13 to 1-7 at the break.
Ciaran Clarke stole the show by scoring Antrim's entire second-half tally of a goal and eight to secure the draw.
Armagh also drew in 2A, ending 1-13 apiece at home to London.
It took a late goal by Caily Gorman and equalising point by Eoin McGuinness to deny London victory at the Athletic Grounds.
Antrim will be satisfied with taking something from their trip to Carlow who had started the division with victory over Westmeath.
They wanted to build on the opening win over London as they aim to enjoy a better year after a disappointing 2016 campaign.
Carlow finished with 13 men after Richard Coady was shown a straight red and Dion Wall picked up a second yellow.
In Saturday's Division 3B fixture, former Antrim player Liam Watson scored 2-10 as Warwickshire beat Fermanagh 2-12 to 0-9 at Brewster Park.
Allianz Hurling League Division 1A
Clare
2-19 0-12
Kilkenny
Cork
1-14 2-19
Dublin
Waterford
0-15 1-18
Tipperary
Division 1B
Galway
3-13 1-21
Kilkenny
Laois
1-26 1-20
Offaly
Limerick
6-21 3-08
Tipperary
Division 2A
Armagh
1-13 1-13
London
Carlow
0-21 2-15
Antrim
Kildare
1-16 0-14
Westmeath
Division 2B
Meath
2-19 0-16
Derry
Wicklow
2-17 1-17
Mayo
Division 3A
Louth
0-12 5-16
Tyrone
Monaghan
1-21 3-14
Donegal
Division 3B
Fermanagh
0-09 2-12
Warwickshire
Leitrim
3-13 2-19
Longford