BBC Sport - Ireland snatch crucial shootout win over Austria in World League 2 at Stormont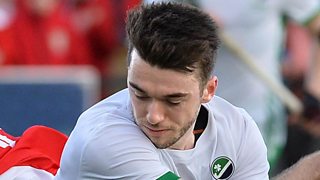 Ireland snatch shootout win over Austria
David Harte shows why he was voted the best keeper in the world as he helps Ireland men's hockey team to a crucial shootout win over Austria in the World League 2 at Stormont.
A controversial short corner late in normal time helped the Austrians force the shootout as the game ended 1-1 before Harte's crucial saves.
Harte and Banbridge player Johnny McKee gave their reaction to Ireland's narrow win.