Rio 2016: Kenya & Russia get proving innocence of doping deadline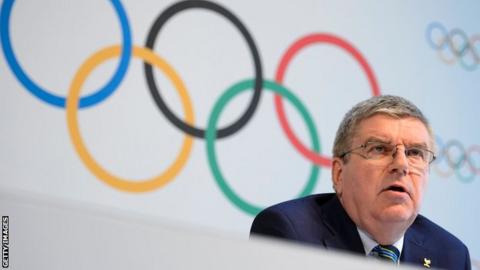 Kenyan and Russian athletes wanting to compete at this summer's Olympics have been told how to prove they are clean - and have 11 days to do it.
The two nations are suspended from international competition for breaching anti-doping rules.
But the International Olympic Committee will allow athletes to compete at Rio 2016 if they pass extra doping checks.
A new "exceptional eligibility" guide, published by athletics' governing body the IAAF, details the process.
It states:
Applicants have to email the general secretary of IAAF, in English, with evidence proving they have clean anti-doping records.
That evidence must be verified by credible agencies, ruling out tests conducted by Kenyan or Russian authorities.
Evidence must be sent to the IAAF by 4 July - two weeks before the Rio 2016 qualification deadline of 18 July.
Links to banned coaches, long periods without being tested and incomplete "whereabouts" information will count against applicants.
Kenyan and Russian authorities had asked the IOC for further clarification on how their athletes can qualify for exemptions and compete at Rio.
However, whether applicants who pass these extra checks will be allowed to represent their country remains unclear.
IOC president Thomas Bach has said Russian athletes deemed to be clean should take part under their own flag.
But the IAAF has said it will accept appeals to participate as "neutral athletes" competing under the IOC banner.
As the vast majority of Russian athletes train at home, the IAAF has already suggested "very few" will be deemed eligible.
That has prompted the Russian Olympic Committee to state it will be filing "class action" appeals against the IAAF at the Court of Arbitration for Sport.
Meanwhile, the IOC said it welcomed the "strong signal" sent by the International Weightlifting Federation (IWF) in provisionally excluding Belarus, Kazakhstan and Russia from this summer's Games.
The IWF has announced it will ban national federations "confirmed to have produced three or more anti-doping rule violations in the combined re-analysis process" of samples taken from Beijing 2008 and London 2012.