BBC Sport - Rio 2016: Jo Pavey - Russia should be banned from Olympics over doping claims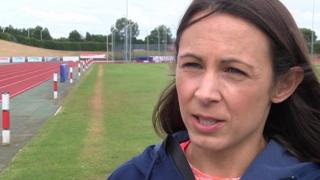 Russia should get Rio 2016 ban - Pavey
Olympic 10,000m runner Jo Pavey says the entire Russian team should be banned from competing at the 2016 Olympic Games.
The Briton, who is set to compete at her fifth Olympics, will not face Russian athletes after the country's track and field team were barred from taking part in Rio.
It followed a damning report from the World Anti-Doping Agency, which accused Russia of a state-sponsored doping regime.
"The IAAF took the right decision to not allow track and field athletes," Pavey told BBC Sport.
"It was a bad decision by the IOC as it was a chance for them to really show that doping will not be tolerated and it doesn't send out the strong message that they had the opportunity to send out.
"It's going to be difficult for athletes in sports where there are Russian athletes to be confident that those athletes are clean."