BBC Sport - Rio 2016: The first contingent of Irish competitors arrive in the Olympic city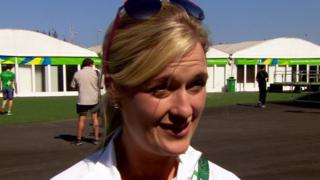 Irish athletes start arriving in Rio
Hillsborough-based Three-Day Event competitor Clare Abbott is among the first contingent of Irish athletes to arrive in Rio.
Abbott was pleased to report that both she and her horse Europrince are in good fettle after their 10,000 trip.
Olympic Council of Ireland chief executive Stephen Martin says he has been working hard to ensure that everything is in place for the country's athletes.