Rio Olympics 2016: Light-heavyweight Joe Ward loses to Carlos Andres Mina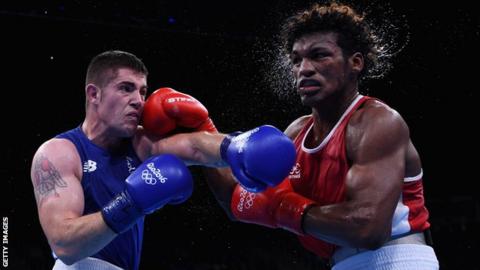 Light-heavyweight Joe Ward has become the latest Irish boxer to be eliminated at the Olympic Games as he lost his second round bout in Rio on Wednesday.
Ward was beaten on a split decision by Carlos Andres Mina of Ecuador.
Ward received two public warnings from the referee during the fight, leading to points deductions at the end of the second and third rounds.
David Oliver Joyce and Paddy Barnes had been eliminated, while Michael O'Reilly was banned due to doping offences.
Ward won the first round 10-9 on two of the judges' scorecards, with the Ecuadorian awarded the round 10-9 on the final card.
However, Mina's lumbering style made things difficult for Ward and at the end of the second round the Ecuadorian was ahead 19-18 on two cards after the first of two point deductions was imposed on Ward.
While Ward fought gallantly in the final round in an effort to save the fight, it was not to be and he will play no further part in the Rio games.
Ballymena's Steven Donnelly will fight in the last 16 of the welterweight division on Thursday.