Rio Olympics 2016: Chris and Gabby Adcock bounce back from defeat to beat Denmark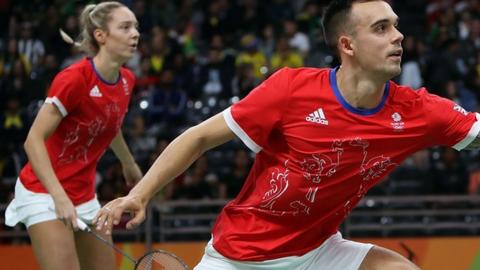 Chris and Gabby Adcock bounced back from their opening defeat to gain their first Group B win in the mixed doubles.
The Brits, who lost to China's Chen Xu and Jim Ma on Thursday, beat Denmark's Joachim Fischer Nielsen and Christinna Pedersen 21-19 22-24 21-17.
In the men's doubles, Marcus Ellis and Chris Langridge beat Koreans Kim Gi Jung and Kim Sa Rang 17-21 25-23 21-18.
Heather Olver and Lauren Smith lost 21-10 21-13 to Indonesian third seeds Nitya Maheswari and Greysia Polii.
Chris Adcock said: "It was a very, very good win. We had a tough battle with them at the All England Open a few months back and it is fantastic to beat the seeded pair in our group. We are really happy with that performance."