BBC Sport - Rio Olympics 2016: Best of the action as Andy Murray reaches men's singles final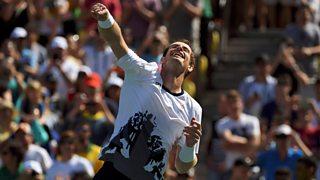 Murray wins stunning 23-shot rally as he reaches final
Watch the best moments, including a stunning 23-shot, rally as Great Britain's Andy Murray remains on course to win back-to-back Olympic tennis gold medals after seeing off Japan's fourth seed Kei Nishikori in the semi-finals.
You can follow the rest of the tennis action here.
Available to UK users only.
Top videos