BBC Sport - Rio Olympics 2016: GB's Brownlee brothers dominate triathlon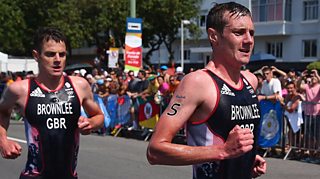 Rio most-watched: No 30 - Brownlees dominate
BBC Sport is counting down the most-watched clips of the 2016 Olympics, we will feature one clip everyday and the countdown begins with:
Alistair Brownlee retains his Olympic men's triathlon title to win Great Britain's 20th gold medal of the Rio Games, with brother Jonny claiming silver.
Analysis: Inside story of the Brownlees' triumph
You can watch the moment the Brownlee brothers won gold and silver here.
Available to UK users only.
Top videos