BBC Sport - Rio Olympics 2016: Usain Bolt's influence on athletics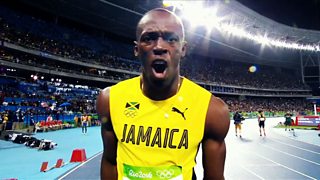 Bolt - 'the Muhammad Ali of athletics'
Usain Bolt won his ninth gold medal as Jamaica won the 4x100m relay, completing an unprecedented Olympic 'triple triple' for the 29-year-old sprinter.
Bolt had already won the 100m and 200m at Rio 2016 and is the only man to win all three sprint events at three Games.
Here is an overview of his influence on athletics.
You can watch full coverage of athletics here.
Available to UK users only.
Top videos