Australians agree to discuss RFL plans for global expansion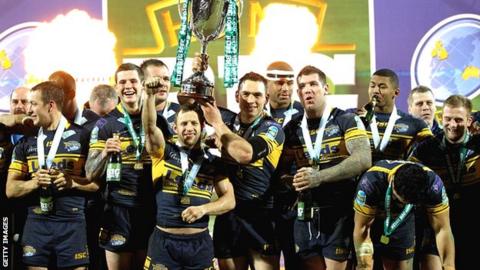 International rugby league bosses are set to discuss the possibility of more games between top Super League and Australian clubs.
Currently, the NRL champions meet their Super League counterparts annually in the World Club Challenge.
But David Gallop, ARL chief executive, agrees with RFL counterpart Nigel Wood that there may be scope for more games.
"It would need to stack up financially and the extra burden on our players is a major consideration," he said.
Wood said on Friday: "There's room for more of our leading clubs to take the field against their leading clubs.
"We've got four, five, six clubs that are the match of the sides in the NRL."
at Headingley on Friday night to become the first Super League team since 2008 to win the World Club Challenge.
Gallop said he would listen to any proposal but with caution.
"The game was a reminder that showcasing the premiers of both competitions is an important part of the calendar," he told the Sydney Morning Herald. "But an expanded competition is not easy in an already crowded and demanding calendar.
"It is something we have discussed before, both with the NRL clubs and the RFL, and we have never completely shut the door on the idea."
The World Club Challenge has taken place in England once a year for the last 13 seasons, but Wood revealed that could change in the not too distant future and plans to discuss it at the next meeting of the International Federation.
"There has been lots of talk and lots of suggestion about the Middle East or the Far East," he told BBC Radio 5 live sports extra. "Or playing alternate years in Sydney or the rest of Australia.
"The fundamental issue for us is that we believe that international club football has got growth in it. There is room for more evenings such as this.
"The players and the supporters deserve an opportunity to see those clubs take the field of combat against each other.
"I'm pretty sure over the next couple of years something will evolve to the satisfaction of both our clubs and the NRL's."
Wood admitted the distance between England and Australia could make it a logisticical problem, but he also believes it is inevitable that the idea will come to fruition.
"It's obviously more difficult in rugby league than it would be in soccer or rugby union where you can play international club football in Europe," added Wood.
"We have to go 12,000 miles, which complicates the options, but fundamentally there is room for growth in the international club matches.
"You just have to sit down with the Australians and work out what the right formula is.
"We're pretty sure that they will look at this as an opportunity to expand what is a great part of the rugby league calendar."