Rugby League World Cup: Scotland's Sam Brooks apologises for 'embarrassing' exit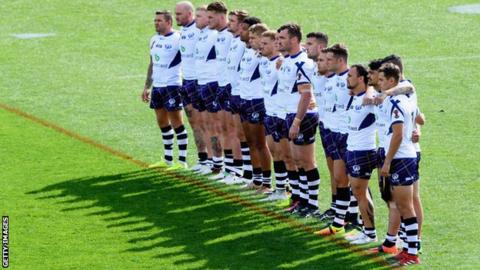 Scotland's Sam Brooks has apologised for his "totally embarrassing" exit from the Rugby League World Cup.
The forward, captain Danny Brough and Johnny Walker were thrown out of the Scotland squad on Sunday after being deemed too drunk to board a flight.
Brooks has returned to the UK for pre-season training with club side Featherstone, while Scotland prepare for a must-win match against Samoa.
"My actions on Sunday were nothing short of unacceptable," he said.
"I would like to apologise to everyone involved with Scotland Rugby League, the players, the staff and the fans who travelled a long way to support us.
"I would also like to apologise to everyone involved with Featherstone Rovers, who I have been representing while away with the Scottish national side."
Huddersfield Giants half-back Brough and the two props - Brooks and Darlington Point Roosters' Walker - are believed to have continued drinking after the rest of the squad had finished following their 74-6 defeat by New Zealand in Christchurch, and the airline refused to allow them to board the flight.
The Scotland management supported the airline's decision and informed the England-born trio they would play no further part in the tournament.
"Most importantly, I would like to apologise to my family - who give me the right to represent Scotland in terms of eligibility," added Brooks on Thursday.
"I am gutted to have embarrassed my family and friends by being forced to leave the tournament in such a disappointing manner.
"Going forward, I will be working as hard as possible - on and off the field - to redeem myself and put this behind me. I will do everything I can to make people proud of me once again."
Despite conceding 124 points in their opening group games against Tonga and New Zealand, Scotland can progress to the quarter-finals - for the second consecutive World Cup - with a win over Samoa on Saturday.