Rochdale Hornets: Championship side to hold talks over match payment reductions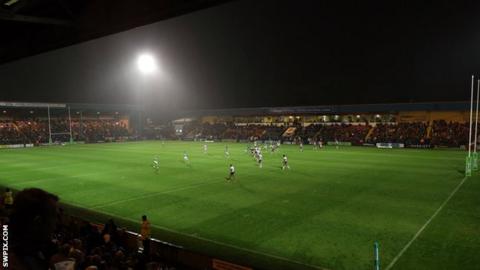 Championship side Rochdale Hornets are to hold discussions with players and coaching staff about match payment reductions for the 2018 season.
The move follows the club's poor commercial performance last year, which resulted in a budget deficit.
Two sponsors faced financial problems during 2017, which led to the club losing £20,000.
"This is far from an ideal situation," Hornets chief executive Steve Kerr said in a statement on the Hornets website.
"We are working with the players and their agents to reach an agreement on making some short-term savings. Every effort is being made to cut operational expenditure and generate new income streams.
"The club stands on the brink of a great season with a team hungry for success and is determined to overcome this temporary setback.
"At the recent AGM a decision was made by the membership to explore changes to the investment model of the club and as such, the board is currently weighing up a number of options.
"This will not only solve the current issue but it will ensure a stable future for the club that could allow it to grow in the Championship."
The Hornets were ninth in the Championship table at the end of the regular season before the split in 2017, before finishing fifth in the Championship Shield.