Gwyn Jones warns of 'massive' Welsh rugby pay cuts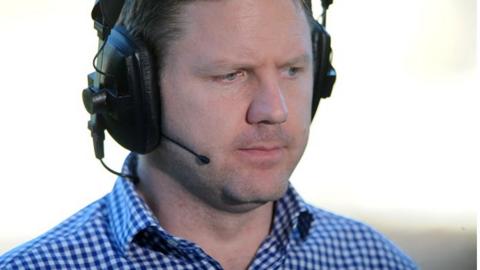 Former Wales captain Gwyn Jones has warned the nation's players face "massive" pay cuts amid a cash crisis.
His statement came after Cardiff Blues backer Peter Thomas said their Test stars will not be paid while with Wales.
Jones said: "The players have to realise they are going to have to take massive pay cuts - if they are going to stay in Wales."
Ospreys Hooker Huw Bennett may be among those to leave in the near future.
But Ospreys team-mate Adam Jones has decided to stay with the region for the sake of his family.
"The Blues have already said they are going to be getting rid of a lot of players," Jones said.
"You have to look at this from the point of view of some of the chairmen who have been pouring money from their own personal wealth into these clubs for years to sustain this model, which doesn't work - it's not worth the money they're paying the players.
"It's [the money] not in the game.
"So the players have to realise they are going to have to take massive pay cuts - if they are going to stay in Wales, that is - or they're going to have to go outside of Wales.
"They'll sacrifice some of their ability to prepare for Welsh games so I think that there will be a huge remodelling of the way the game's played at regional rugby.
"Now whether Peter [Thomas] is trying to provoke the union [Welsh Rugby Union] and to say "look we need more help here" - but I don't know how much money the union have got to give them.
"They're playing extra games to service the participation agreement so I think everyone has to realise that the money isn't there, including the players."
The Blues, Ospreys, Scarlets and Dragons have already announced a £3.5m salary cap for next season.
At the moment Wales' top players are paid a regular salary from their parent regional side or club, plus another contract from the Welsh Rugby Union or other representative side for international duties.
The four regions are part-funded by the WRU, which invests £6m directly every year shared between the four and also helps to finance the academies, but the remainder must be self-funded.
The Wales national side is enjoying a period of sustained success and popularity, but that has not translated into good attendance numbers at domestic games.
The Blues have recently decided to return to their former Arms Park home for some games because of falling crowds at the Cardiff City Stadium, where they signed a 20-year tenancy lease with Cardiff City Football Club.
Although there is the background of the general economic downturn, Thomas points out that one of the regions' biggest selling points - their star players - are not often on show at regional level because of their international commitments.
Falling crowd numbers have added to the financial pressures on the Welsh regions, who have already seen some of their leading players leave or announce they will leave for richer English and French clubs.
The Welsh sides' self-imposed salary cap of £3.5m compares unfavourably to that imposed on English Premiership sides and is dwarfed by the £7.1m limit of French Top 14 clubs.
From the 2012-13 season, English sides can spend a maximum of £4.5m if 'academy credits' for fielding home-grown talent are taken into account, and they can also nominate one marquee signing to be excluded from the cap.
The Irish provinces operate on a different model to the other three nations, with Ireland squad players centrally contracted by governing body the Irish Rugby Football Union.