Edinburgh's Stuart McInally eyes switch to being one of best hookers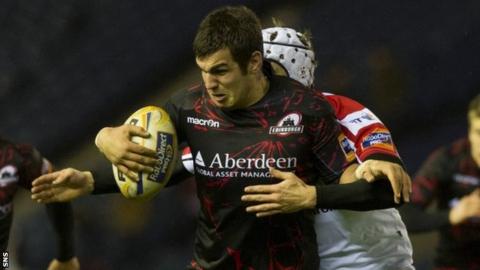 Edinburgh's Stuart McInally has set his sights on becoming one of the best hookers in the world after taking the decision to convert from the back row.
The 23-year-old has yet to win his first cap for Scotland.
And he is being encouraged to switch by new Edinburgh coach Alan Solomons and Scotland boss Scott Johnson.
"I want to be one of the best hookers in the world. That's my goal and to bring a different dimension," said McInally.
"I could have a good career in back-row. But, with the right application, I feel I could be a great hooker.
"There's faith in me to deliver this at the highest level and, longer-term, fulfil my international ambitions and play for Scotland."
McInally has represented Scotland at Under-20 level in the back row and been an unused match-day replacement for the full national team.
Now he hopes to follow in the footsteps of Edinburgh team-mate Ross Ford, who won Scotland caps and represented the British & Irish Lions after making a similar switch.
"Ross Ford has helped a huge amount technically and also helped me make the decision, which I took several months to make," he said.
While insisting that he is excited at the challenge, McInally realises the specialist nature of his new position.
"I'll continue to play my type of game and hopefully become like an extra back-row on the field, like so many of the top hookers," he said.
"I think if it's managed well, switching to hooker can be a great move for a back-row forward and Edinburgh and Scottish Rugby have been very positive and been hugely supportive."
Johnson believes that McInally has already shown promise in the new position.
"The game of rugby is changing and the position of hooker, while specialist, requires a very diverse range of abilities, which Stuart already possesses: he's a dynamic and strong ball carrier and has excellent ball handling skills," said Scotland's director or rugby.
"I'm pleased to say that Stuart has taken to the specialist functions of throwing-in and hooking like a duck to water.
"However, what he needs is time to become used to performing these actions under immense pressure.
"Looking to the long-term, we require greater depth in the position and I believe that, come 2015, Stuart will join the likes of Ross Ford, Richard Hibbard of Wales and Steve Thompson of England who have successfully made this transition."
Solomons, meanwhile, said Edinburgh "will do everything we can to assist this process."