Edinburgh: Boss Alan Solomons confident he will stay in role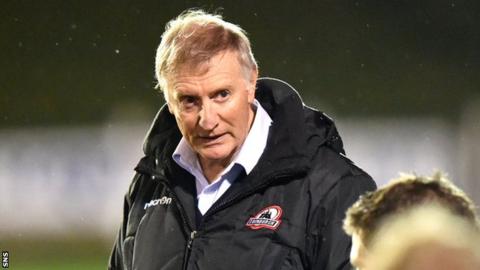 Head coach Alan Solomons believes his job is safe despite Edinburgh's poor start to the Pro12 campaign.
Solomons' side have won just one of their five games this season and lost 30-0 at Ulster on Friday night.
They also suffered a 62-13 hammering at Ospreys last month.
But when asked if his job is under threat, Solomons said: "No, I don't think so at all. You have to keep the game in context and keep a perspective on things. Ulster are very strong."
Edinburgh were made to pay for indiscipline by the Irish province, and South African Solomons highlighted the yellow card to captain Mike Coman as the key moment in Friday's defeat.
"We had a 14-4 penalty count against us," Solomons added. "The turning point in that game was the yellow card that was given and the succession of mauls that took place straight after that, which led to two tries - I think then the game has gone.
"So I think the yellow card was a massive thing and the penalty count was a massive thing."
Solomons refused to blame the referee for his side's penalty count, but said Edinburgh will watch the match again.
"We will review the game carefully and we'll go through the proper channels as always," he said. "It is a heavy penalty count, but we've got to look at it.
"We had four penalties at scrum time and a free-kick against us at scrum time. So it makes it very difficult when you are on the back end of a big penalty count like that to play, especially a very strong side."
The Edinburgh boss also felt injuries had added to his side's struggles at Kingspan Stadium.
"We missed a number of key players who could not play because of player management issues - Dave Denton didn't play, Matt Scott didn't play, Grant Gilchrist went off at half-time and Dougie Fife didn't play," Solomons said.
"When we play these top teams, especially in away fixtures, it's important that we have our key major international players playing for us."
Former British and Irish Lion, Peter Wright analysed Edinburgh's performance and insisted Solomon's tactics are to blame for the defeat.
Wright illustrated a comparison with the fortunes of the USA team in golf's Ryder Cup and insisted until a strong figure at Murrayfield speaks up, the performances on the pitch will persist.
"Edinburgh are like the America of the Ryder Cup, Glasgow are the Europe," said Wright on BBC Radio Scotland's Sport Nation programme.
"Where Edinburgh are getting it wrong, is that they're playing a style of rugby that doesn't suit the players.
"I don't think the players like the way Alan Solomons is trying to play. He mentions all the players that are missing, but he never signed those players - all the guys he signed are the ones who played last night, and he's saying they're not in his top XV, so why sign these guys?
"As players, they can't come out and criticise the coach, because it'll affect them - he won't pick them.
"I don't think Alan Solomons is the type of guy you get on the wrong side of.
"I'm sure there's meetings going on in private where the players will get to air their views, and if anybody has the courage to stand up and actually say 'this is not working, it's not our style'.
"Until they address that, it's going to go from bad to worse."