Bleddyn Phillips: London Welsh have relegation plan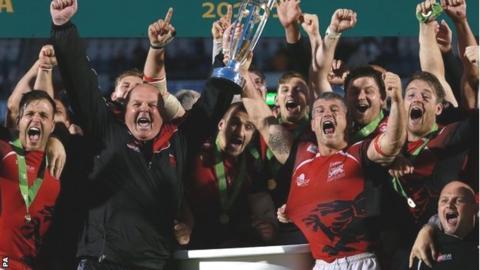 London Welsh chairman Bleddyn Phillips says the Premiership club have a plan in place for their likely relegation.
Welsh, promoted in the summer, are 15 points adrift at the bottom of the table and have not won a game all term.
And Phillips says the Oxford-based club are already preparing for life back in the Championship next season.
"I think it would be imprudent for any club not to prepare for any eventuality," Phillips told BBC Radio Oxford.
"I think, especially given where we are, we have to 'hope for the best, prepare for the worst'. I think it would be imprudent if we didn't prepare for any scenario."
Welsh have just a solitary point but Phillips says head coach Justin Burnell has his "full support", while also admitting attendances have been disappointing at the Kassam Stadium.
"Certainly attendances have been disappointing to put it mildly, but that is not surprising given the performances on the pitch - the two are often related," he added.
"While one is disappointed, one is not surprised and going back to funding issue, if we'd been able to put out a fully competitive squad, if some of the other issues were addressed, that would reflect through to the results and that would affect the attendance figure.
"There is a vicious circle to a certain extent."
Phillips reiterated his belief that the uneven distribution of revenues by Premier Rugby Limited - the body that represents English top-flight clubs - was creating an unlevel playing field, as discussions continue with Premiership clubs, some Championship teams and the Rugby Football Union.
"I am hoping those discussions will result in a mutually satisfactory outcome," he said. "Let's hope it can be done through sensible discussion."
The Exiles currently get in the region of £2m less than clubs who have been in the Premiership since its inception, or as Phillips explains "considerably less than a half of some Premiership clubs".
He added: "As always as chairman I have to look at the best interests of London Welsh and also any promoted club to ensure a level playing field.
"Not just in terms of funding but the timing of promotion play-offs and access to an academy-based system.
"It's a fight being fought not just for ourselves but aspirational teams everywhere."