Jack Nowell benefitting from England attacking tactics, says Rob Baxter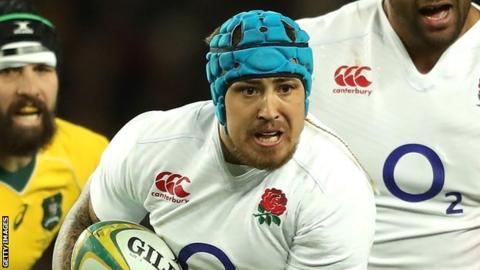 Exeter head coach Rob Baxter says England's more attacking approach has benefitted winger Jack Nowell.
The 23-year-old Exeter winger featured in all three wins against Australia, scoring a try in the first test.
"At Exeter we've probably thought more highly of his qualities than probably you've seen internationally," he said.
"What you've seen this year with England, and the improvement they're making, is that you've been able to see more of Jack's good qualities."
Nowell has scored 13 tries for club and country since his hat-trick against Uruguay in England's final World Cup match against Uruguay last October, including one in Eddie Jones' first game in charge of England against Scotland in the Six Nations.
"England have played well and have certainly attacked more and so I think you've seen Jack get more and more opportunities," Baxter told BBC Sport.
"He's getting the ball in potentially try-scoring situations, which he wasn't getting that much last season, and I think that's the big difference.
"Obviously Jack's improving as a player, he's still a young man, so he's got a fair level of improvement that he'll still make, but what you're seeing is him getting more and more opportunities, and he's going to keep improving for quite a long time."
Nowell's Exeter teammates Luke Cowan-Dickie and Henry Slade played a lesser role in England's whitewash.
Hooker Cowan-Dickie was a replacement in the first Test, while centre Slade failed to break into any of the matchday squads.
"It's experience that you can't buy, and being there and training and being part of that environment, and seeing what it takes to be successful at that level, they should all be very positive things for us as a club when those lads get back," said Baxter.
"It would be very difficult to criticise any selections that were made because the team have been successful and they've played well.
"In a lot of ways, the way to look at it is the positive thing is that for Henry and Luke to break in they're going to have to play really well.
"That's great for us as a club, for them to break into that England team currently they're going to have to come home and perform very well for us week in week out.
"They should be really motivated at the start of the season to try and break into an England team that is going through some very positive things at the moment."