Glasgow Warriors say new pitch is fantastic, just don't call it plastic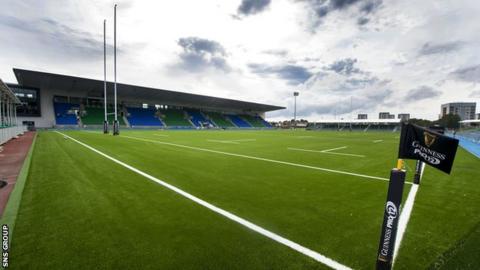 Dirt is off the menu at Glasgow Warriors' Scotstoun stadium.
From now on when a player finds himself face down on the pitch, friction burns are more of an occupational hazard than a mouthful of mud.
The flood-prone grass is history. The future? A rich green synthetic woven carpet - Warriors don't like to refer to it as "plastic" "4G" or "Astroturf".
That future starts on Saturday when they play their first home game of the season, a Pro12 encounter against Leinster.
Traditionalists will surely be be up in arms. Won't they?
Well no actually. Take hooker Pat MacArthur. "I still love playing on grass it's tremendous when you get a good surface," he says.
"Unfortunately, the Scottish weather in January or February can be a bit 'interesting' so the artificial pitch ensures we can play good rugby week-in, week-out.''
That wasn't the case last season when waterlogging resulted in matches being switched from a sodden Scotstoun.
The second leg of the 1872 Cup against Edinburgh at Christmastime was moved to Murrayfield and home advantage was conceded. Glasgow lost the match, the 1872 Cup and valuable league points.
Two matches, one a European Champions Cup game, were switched to Kilmarnock FC's synthetic surface at Rugby Park in February, and another postponed.
Such disruption shouldn't happen this season according to head coach Gregor Townsend who thinks artificial pitches are the future for rugby, in certain circumstances at least.
"It's a reality, we play our first home game against Leinster on Saturday, then the following week we play Cardiff Blues on their artificial pitch," he explains.
"There are also three in the English Premiership. If you struggle to get a good grass pitch that can handle the weather and also the weight of a scrum which can be up to a thousand kilos, then an artificial pitch gives you the chance to play positive rugby every week.''
Warriors recent recruit Sam Johnson, who plays either in the back row or at centre adds: "It's fantastic, we've trained on it and are looking forward to playing expansive rugby on it, there should be plenty of tries scored."
While the slick new surface should suit Warriors brand of running rugby there are other implications.
"We've played on 4G surfaces before and the games are quicker which is great for us but as a forward it means there's greater pressure going through the scrum because everyone is sure footed, there's no give in the ground," says McArthur.
"It will make set pieces more intense and increases pressure on you."
Keen-eyed spectators might notice one or two other changes to Scotstoun on Saturday.
The stadium capacity has been increased to over 7,000 with the addition of extra stands.
Look out for increased accuracy of conversions, penalties and drop-goals too. The goal posts have been increased to 17 metres.
I'm told that helps kickers - there are even triangular flags on top of them to help gauge wind strength and direction.