BBC Sport - Anthony Foley: Ex-Ireland team-mate Denis Hickie's tribute to 'Munster's rock'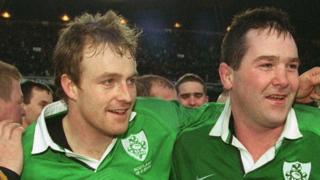 Hickie's tribute to 'Munster rock' Foley
Anthony Foley's former Ireland team-mate Denis Hickie says the number eight was the "rock' on which Munster's success was founded upon.
Ex-Ireland wing Hickie spoke of his shock at Foley's sudden death at the age of 42 in Paris on Sunday.
"You see from the reaction from players all over the world, the respect that he was held in," said Hickie who, like Foley, made 62 Ireland appearances.
"The success that Munster had in the early noughties, and when he led them to their first Heineken Cup triumph against Biarritz in 2006, he was omnipresent in those games and his performances were excellent.
"When he retired, he was Munster's highest ever try-scorer from the number eight position and that shows what a contribution he made."