BBC Sport - NI Executive Minister Givan wrote to IRFU about Pienaar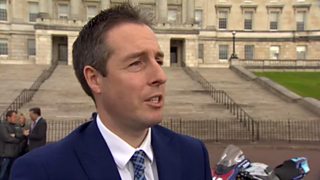 Stormont Minister wrote to IRFU about Pienaar
Northern Ireland Executive Communities Minister Paul Givan writes to the IRFU to express disappointment about the impending departure of Ruan Pienaar from Ulster at the end of his current contract.
The Minister told the BBC that he had received a reply from the governing body of Irish rugby outlining their reasons for refusing to sanction a further contract for the South African half-back at the end of the season.
Ulster Rugby Chief Executive Shane Logan explains that the Irish province are now moving on in the wake of the decision being made.