Redruth secure dramatic win at Worthing after retaken last-kick conversion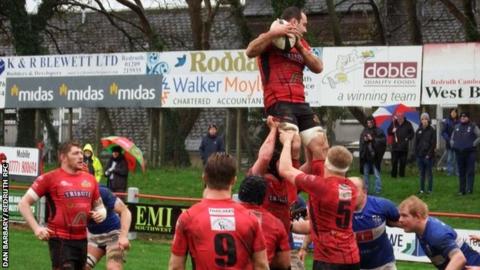 Redruth boss Marek Churcher has praised the bravery of the stand-in referee who made his side retake what proved to be a match-winning conversion.
The Reds won 29-27 at Worthing, but only after Angus Taylor's conversion in stoppage time was retaken having initially hit the post.
The touch judge, who had taken over after the referee was injured, deemed Worthing charged too early.
"That's one of the gutsiest calls," Churcher told BBC Radio Cornwall.
"Credit to him because it would have been quite easy to say 'game over', but he didn't and Gus slotted over the next one."
The Reds led 17-15 at half-time with tries from Alex Ducker, Lewis Vinnicombe and Nielson Webber.
But two tries in the opening 10 minutes of the second period saw Worthing go 27-17 up before Tommy Phillips' unconverted try soon after.
Following a long period of pressure on the Worthing line, Jess Tompsett went over in stoppage time before the dramatic finale.