Rob Baxter: Exeter boss admits Champions Cup qualification chances are all but over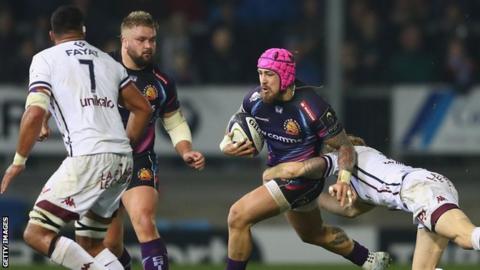 Exeter head coach Rob Baxter admits his side are all but out of Europe after their Champions Cup defeat by Bordeaux.
The 13-7 loss means Chiefs have been beaten in all three of their matches and are 10 points behind group leaders Clermont Auvergne and can do no better than 15 from their remaining games.
"Three wins in the group last year were enough, but I can't see that happening.
"I would say it would be very tough for us, but that doesn't mean there's nothing to play for," Baxter said.
Exeter topped their pool last season after all four teams registered three wins and three losses.
"These games are very important, you've got to take them with a great deal of pride, as we saw with the way things wrapped up in our pool last season," Baxter told BBC Radio Devon.
"We owe it to everybody else to work very hard and make sure we make Bordeaux have to fulfil a huge fixture next week and when we have Ulster here, I'm expecting us to really turn up and make sure that is a huge fixture and the same when we go to Clermont.
"We're not just going to throw the hat in and we're not just going to fulfil them as non-fixtures. Far from it, they're going to be very important fixtures and very important for us as a side, developing individual players and have us absolutely flying in the Premiership."