Alex Ducker: Redruth winger 'out of this world', says boss after four-try haul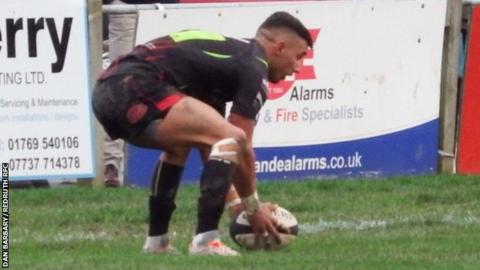 Redruth boss Marek Churcher says winger Alex Ducker is one of the best players he has ever coached.
Ducker scored four tries in their 46-15 win over Devon rivals Barnstaple in National Two South to take his tally to 21 in 18 appearances.
"I've never coached a guy or been involved in rugby with a guy that's got such quick feet and the ability to finish like he's got," said Churcher.
"It's out of this world and he made Barnstaple look silly just by himself."
The Reds are fifth in the division, five points behind fourth-placed Taunton and 13 behind leaders Bishop's Stortford.
"It was all about our mental attitude, and we can finish in that top three if we get our mental side of it right," Churcher told BBC Radio Cornwall.
"The most important thing for me as a coach is what we've done what we've worked on in training.
"It's very easy to say 'Marek's said this and Marek's said that', but actually they've gone out and done everything we've talked about."