John Hardie must earn Edinburgh return - Richard Cockerill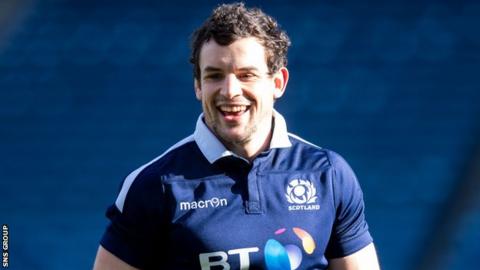 John Hardie will need to work hard to "earn the respect" of everyone at Edinburgh when he returns from suspension, says Richard Cockerill.
The 29-year-old Scotland flanker will be available for selection in mid-January once he serves a three-month ban over alleged cocaine use.
"If he deserves his place in the squad, he will get it back," head coach Cockerill said.
"It's as simple as that, but a few guys have got a head start on him."
Hamish Watson and Jamie Ritchie have been operating in Hardie's preferred openside position in recent weeks, with Watson also impressing in the number seven jersey for Scotland in the autumn internationals.
"John has been disciplined and will come back in the New Year," added Cockerill.
"He is a good player and we have a responsibility to help him and bring him back into the squad and get his life back on an even keel. He needs to earn the respect of everyone again and I'm sure he will do that."
New Zealand-born Hardie is under contract until the summer and Cockerill admits it is no foregone conclusion that his services will be retained.
"He needs prove that he is good enough to get back into the squad and all those decisions will happen in the New Year," he added.
Cockerill's first season with Edinburgh has been hampered with off-field distractions, with Magnus Bradbury stripped of the captaincy after picking up a head injury on a night out.
And the former Leicester coach said players who stray from the high standards he imposes will have no future at Edinburgh.
"I want guys who want who be part of it, be professional and be part of the team," he said.
"Nobody is indispensable, including myself. That's just the way it is. You have to work hard and do your job and if you don't want to be part of it that's fine.
"Go and do want you want to do somewhere else, but it won't be at Edinburgh."
Cockerill would not dispel reports that marquee summer signing Robbie Fruean has been forced to retire on medical grounds.
The powerful centre, 29, has in the last decade undergone several surgeries to replace valves in his heart, and has played only five matches for Edinburgh, the most recent of which came against Zebre in a Pro14 clash on 6 October.
"I don't want to comment on it - it's a private matter for Robbie, and when he is happy to talk about it then I will," Cockerill said.
"I think the reports at the weekend were a bit insensitive and I don't think there's any need. It's not within the public interest at the moment. Robbie's health is a private matter for him and his family."