Rob Baxter: Exeter loss at Newcastle is 'not a disaster' says Chiefs boss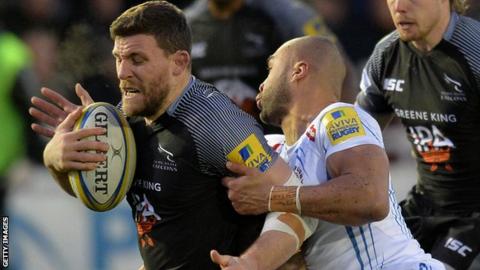 Exeter Chiefs boss Rob Baxter says his side must move on quickly from their Premiership loss at Newcastle.
The 28-20 defeat was the first time in 33 matches that the Chiefs have not got at least a bonus point from a match.
Saracens' bonus-point win over Wasps halved Exeter's lead at the top of the league to five points.
"I've just said to the guys in the changing room 'let's not get all twisted up about this like it's some kind of disaster'," Baxter said.
"We need to deal with what we got wrong and move on, no different to any other game we play whether we win or lose.
"We've got to react in the right way, we're still top of the Premiership, we're not a team that needs to crumble under pressure, we need to enjoy being top of the league and enjoy teams coming at us."
Baxter made nine changes to the starting line-up from the side that beat Leicester the previous week.
"It's bound to have an effect," he told BBC Radio Devon.
"But I don't really want to be looking for excuses, I want to be looking for reasons to get better and move on.
"We should hurt a bit from today, but there's nothing wrong with being a bit humble after you've been beaten, you should be humble and you should get your head down and work hard."