Guernsey Raiders began Hertford preparations during Tunbridge Wells win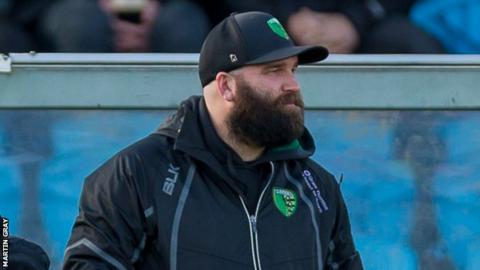 Guernsey Raiders boss Jordan Reynolds says they began preparations for next week's key clash with Hertford during their 27-11 win over Tunbridge Wells.
The bonus-point victory kept the islanders five points clear of second-placed Tring at the top of the London and South East Premier Division.
They are six ahead of fourth-placed Hertford, who have a game in hand.
"We decided to try and execute a few things we'd been working on," Reynolds told BBC Radio Guernsey.
"A lot of those did come off and some of them didn't, so we can look at them in training and see if they're ready to go for Hertford."
Guernsey are in their highest-ever position in the English rugby pyramid after winning 13 of their 15 matches so far, having never previously topped their regional division in the fifth tier.
"I don't have to motivate the players for these games," said Reynolds.
"We've been practising and preparing ourselves for the last couple of years for these situations, especially in the league we're in now, and as a squad we have so many variations in what we can do.
"We've got a really good balance this year with the squad, and there's a lot of confidences coming through with them as well which is fantastic, and that's showing in the results that we're getting."