Glasgow Warriors: WhatsApp group helps injured players, says Adam Ashe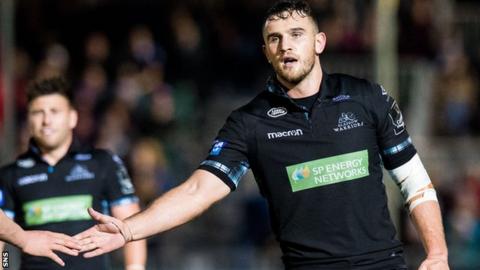 Glasgow Warriors number eight Adam Ashe says a WhatsApp group for injured players helped him during his rehabilitation from ankle surgery.
The 24-year-old spent 10 weeks out after suffering the injury in October, but starts against Leinster in the European Champions Cup today.
Ashe says the camaraderie amongst the injured players lifted their spirits.
"We've got a WhatsApp group and we keep each other going through that. There's a lot of carry on in it," Ashe said.
"With a big squad you're always going to have a few players who are injured and there was about eight or 10 guys in the group.
"We've got a great [strength and conditioning] guy, George Petrakos, he is one of the unsung heroes of this club. He's a great coach and he puts a lot of hard work into getting the boys back on the pitch."
Ashe had established himself as a regular starter in head coach Dave Rennie's side when he damaged his ankle, and in his first start since returning he will line up in the back row alongside the 21-year-old Matt Smith and the 19-year-old Matt Fagerson.
Warriors have lost all four of their pool matches so far but have been beaten just once in this season's Pro14, and Ashe says the team is looking to produce a performance to build on against Leinster.
"They're always a tough team, it's always physical and they play a lot of good rugby," Ashe said. "It's going to be a nice welcome back.
"It's a funny position to be the old head in there with those two young guys. I'm looking forward to playing with them, it's the first time we've played together as a three. They're two fantastic players, very athletic, so it's going to be exciting."