BBC Sport - 'It's the days you dream of being involved in' - Ireland scrum-half Conor Murray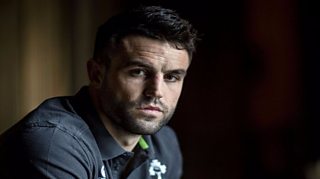 The days you dream of being involved in - Murray
Ireland scrum-half Conor Murray says the players 'can start talking about' the opportunity to win a Grand Slam.
Ireland travel to Twickenham in the final round of this year's Six Nations in a reversal of last year's championship when Ireland denied England a Grand Slam in Dublin.
"It's not daunting," said Murray. "It's a massive occasion but it's one this group is going to enjoy and relish."