Jamie Roberts to 'strive and fight' for Wales jersey after Bath deal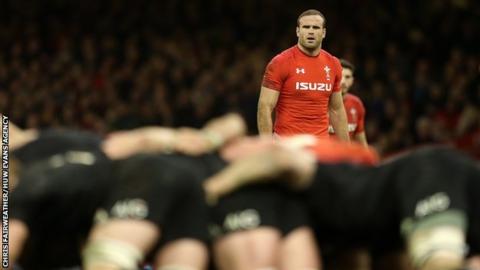 Jamie Roberts says he will "strive and fight" to wear the red jersey again for Wales.
The 31-year-old centre will join Bath from Harlequins on a two year deal at the end of the Premiership season.
Despite not being involved in the Six Nations for the first time in 10 years, he wants to play "at the highest level possible" and has his sights set on the 2019 World Cup.
He said signing for Bath "was the best place to try and achieve that".
"It's a very good environment for me to excel at club level and put my name back in the frame for test rugby."
Roberts said he was "delighted" to be playing his rugby at The Recreation Ground next season.
"It's a very competitive club and strives to be a top four club every year in the Premiership... so it's ticked a lot of boxes."
Roberts said his Wales ambitions were one of the main reasons for staying in the UK, despite having amassed more than the 60 caps needed to be eligible to play for Wales when not playing for a Welsh region.
"It's been a disappointing season on the international front, obviously not being involved... but it still motivates me while the door is still open.
"The feeling of playing test rugby is unparalleled."
Director of rugby at Bath, Todd Blackadder, said Roberts' international ambitions are beneficial to both the player and the club.
"That is a real key driver because if he wants to play for Wales and make the World Cup, on the back of that it means he will have to play really well for Bath so I can see some real upside."
Roberts said there were a number of options available to him next season and that is was "no secret" his agent had a spoken to the Cardiff Blues.
He said he would not consider a move to any of the other Welsh regions because of his "emotional attachment" to his former club.
"From a personal point of view I'd struggle to play for another club in Wales apart from the Blues. It's where I grew up.
"Unfortunately they weren't in a position to offer me a deal when I had to make my decision."
Roberts is just six caps short of Wales' exclusive 100 club, which includes the likes of Gethin Jenkins, Alun Wyn Jones, Stephen Jones, Gareth Thomas and Martyn Williams.
He said it was "just a number" but if he reaches the figure it will be as a result of "serious hard work, determination and graft".
"That's what I have to put myself through to get there, especially having not been involved in the last two campaigns."