Luke Patience: Sailor gets Rio 2016 Olympics berth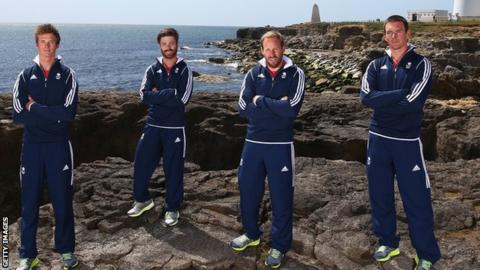 Luke Patience has been picked for the Rio 2016 Olympics for the second time, after his initial partner Elliot Willis missed out because of bowel cancer.
The 29-year-old, who won a silver for Great Britain at London 2012, needed a find a new partner and be selected again - and he and Chris Grube will now go to Brazil in the men's 470.
Dylan Fletcher and Alain Sign - in the 49er - have also been chosen for Rio.
The quartet complete the 15-person British sailing team.
Patience said: "It's still a special day but mixed feelings I suppose because I am combining two campaigns to try and still achieve the same goal.
"It was wonderful to do this with Chris and it was wonderful to do that day with Elliot as well."
British sailing team for Rio 2016
Luke Patience (Men's 470)
Chris Grube (Men's 470)
Dylan Fletcher (49er)
Alain Sign (49er)
Giles Scott (Finn)
Nick Thompson (Laser)
Alison Young (Laser Radial)
Bryony Shaw (Women's RS:X)
Nick Dempsey (Men's RS:X)
Hannah Mills (Women's 470)
Saskia Clark (Women's 470)
Charlotte Dobson (49erFX)
Sophie Ainsworth (49erFX)
Ben Saxton (Nacra 17)
Nicola Groves (Nacra 17)