Round the world record: French sailor Thomas Coville sets new mark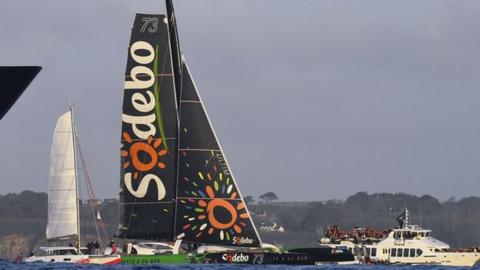 Frenchman Thomas Coville has smashed the record for sailing around the world single-handed without stopping by eight days.
The 48-year-old finished in 49 days, 3 hours, 7 minutes and 38 seconds.
The previous record of 57 days 13hr 34min and 6sec was set by fellow Frenchman Francis Joyon, who took it from Britain's Ellen MacArthur in 2008.
Coville set off from Brest in France on 6 November and will rarely have slept for more than three hours at a time.
"Mentally I had my highs and my lows but I knew where I wanted to get to," Coville, who had made five previous attempts to break Joyon's record, told Le Parisien newspaper.
"Physically I could not have gone much further."