Olympian Matt McGovern teams up with Robbie Gilmore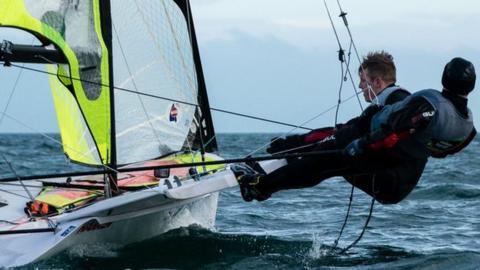 Two-time Olympian Matt McGovern will bid to make the 2020 Games in Tokyo alongside new sailing partner Robbie Gilmore.
Gilmore is a former top NI youth sailor from Strangford Lough Yacht Club.
McGovern partnered fellow Northern Ireland sailor Ryan Seaton in the 2012 and 2016 Olympics.
Seaton and his new partner Séafra Guilfoyle will compete against McGovern and Gilmore to represent Ireland in the 49er class in Tokyo.
Bangor man McGovern and Seaton ended their 49er partnership after finishing 10th at the Rio Olympics last summer.
"The new partnership has added a new freshness to the sport I love," said McGovern.
"Our 2017 goal is to get a good grip on the boat and put in a strong performance at the World Championships at the end of August to give us a platform to move on to and qualify the nation at the subsequent Worlds in 2018."