2018 World Cup: 'Scots can qualify, England are not great'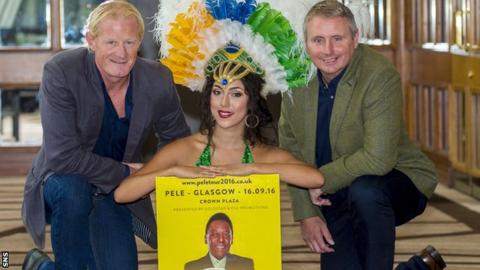 Six thousand miles from the Rio Olympics, on a dreich Glasgow Thursday afternoon, two middle-aged men are posing with a young woman in full samba gear; sparkling green leotard, feathered head-dress, the lot.
She's in samba gear - not them.
The woman is called Storm. The men are two former Scotland international footballers Tom Boyd and Colin Hendry. Together they're promoting the forthcoming visit of Pele to Scotland.
A PR man rather awkwardly places a promotional placard advertising 'an evening with Pele' front and centre for the benefit of photographers.
Boyd and Hendry are too young to have played against the three-time World Cup winner, but one of them has something in common with him.
Like Pele, Tom Boyd scored for Brazil.
His own-goal in the opening match of the 1998 World Cup Finals in France the difference between the sides in a 2-1 defeat for Scotland.
Hendry captained the Scots that day, the proudest moment in his international career.
Scotland have not qualified for the finals of a tournament since.
Neither man is despairing, however, as the next qualifying campaign looms.
"I'm optimistic," says Boyd, '"There's always optimism at the start of a new campaign, there's always a freshness there."
But - there's always a but with Scotland isn't there?
''It's going to be a difficult challenge, it's harder to qualify with one automatic qualifying spot.''
The former Celtic captain says qualifying for Russia 2018 might require a fresh approach.
''Back when we were qualifying we were more solid, we could grind out results.
"When Colin and I played, we were a solid unit. Perhaps not playing such attractive football, but we would grind out results, we would go to places like Georgia and grind out wins.''
While advocating a change in tactical emphasis , the 51-times capped defender thinks the solid defensive heart he craves will by necessity have a familiar look to it.
''I wouldn't say centre half is the strongest position. When you look back to when we were qualifying we had guys in the top teams in the English and Scottish leagues we don't have that any more. I think Gordon (Strachan) will go with the tried and tested.''
The tried and tested in the unsuccessful Euro 2016 campaign were Grant Hanley, veteran Gordon Greer and Russell Martin.
All three will be plying their trade in the English Championship this season.
Perhaps therein lies the defensive rub according to Hendry.
''In my day, the team was made up of guys playing at the top end of the top division in England and from Celtic and Rangers.
"Now we don't have that. Most of our guys are playing in the English Championship but if Gordon plugs away I'd say we have a good chance of qualifying.''
To do that the Scots will have to prevail against England, Slovenia, Slovakia, Lithuania and Malta.
Hendry says: ''I'm not sure England are that great, but they can only be better under new manager Sam Allardyce - they can't get any worse. I played under him at Bolton for three years and know that he'll get the best out of his players.
"But we weren't that far away in the Euros in a group that had Poland, Germany and Ireland in it - we had one bad result that away defeat in Georgia that was a disaster.
''I'm confident we have a good chance this time round.''
I didn't ask Storm if she shared Colin Hendry's optimism despite our lack of English Premier League players. Perhaps I should have.
And Pele may not have approved of Tom Boyd's desire to see a Scotland team grinding it's way to a major tournament. He might not even care.
Perhaps I'll ask him when he comes here in September.