Ice hockey: Braehead Clan beat Fife Flyers twice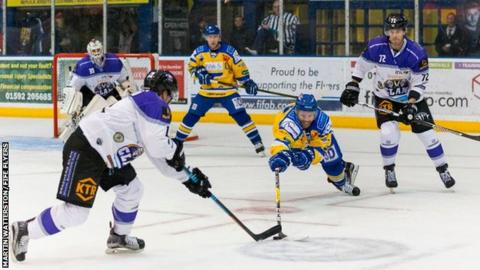 Braehead Clan head coach Ryan Finnerty says the performances were more important than the victories as his team delivered two wins at the expense of Fife Flyers at the weekend.
Saturday's 6-3 home league win was followed by a 6-2 away Challenge Cup victory that booked their place in the last eight, ending Flyers' interests in the tournament this season.
And Finnerty was pleased his team carried on what they started in Braehead Arena as they picked up their first four-point weekend of the current campaign.
"The performances were more important to me than the wins," he said. "You can win ugly and sneak it, but we've played the same way in three games now and won well.
"We want the attitude we have now in every game and make sure it becomes a habit. I really like this group right now and the guys are buying into that with the personnel we've got.
"We continued where we left off on Saturday and after Sunday, we knew Fife would come at us to get that building of theirs rocking and we managed both games well."
In front of a sell-out crowd at Braehead Arena, Finnerty's side sealed an impressive 6-3 win over their rivals from Kirkcaldy to take the league points.
Scott Pitt's first period marker was followed up by Alex Leavitt, Daniel Ahsberg and Matt Haywood before Matt Sisca pulled one back for the visitors.
Mike Hammond added a fifth for Braehead, with Shayne Stockton scoring Fife's second. Pitt made it 6-2 before Brendan Brooks notched a late third for Todd Dutiaume's men.
They met again in Kirkcaldy 24 hours later and it was do or die in the Challenge Cup for both teams, with the winners confirming their place in the quarter-finals.
Clan did it again to secure that place, beating the Flyers 6-2 in Kirkcaldy and they got the best possible start as Corey Cowick opened the scoring followed by Pitt adding a second.
Kyle Wharton made it three before Jay Rosehill was ejected from the game for an incident involving Flyers defenceman James Isaacs.
The visitors increased their lead even more through Cowick, who netted two more to complete his hat-trick before Matt Sisca finally netted for the Flyers.
Callum Boyd was also kicked out for slew footing in the third, but a further goal from Wharton made the lead even more comfortable, despite Brendan Brooks picking up a late Fife marker.
Edinburgh Capitals had something of a mixed weekend, but still emerged with a victory to show for their efforts.
Starting at Manchester Storm on Saturday, they fell in a 4-2 defeat as Omar Pacha's side took two Gardiner Conference points from the Caps.
Mario Valery-Trabucco, Cody Cartier and Jack Prince put Storm three up with reply until Michal Dobron's side pulled two back through Karel Hromas and Taylor MacDougall.
Valery-Trabucco's second secured Manchester's points with five minutes to go as Edinburgh returned to Scotland, where Coventry Blaze awaited them at Murrayfield for Sunday's game.
Dobron and Garrett Milan had the Caps two up by the end of the second period before Robin Bergman pulled one back for Danny Stewart's men a minute into the third.
Yevgeni Fyodorov killed them off with a finish minutes later with Milan getting his second of the night - an empty net goal - to apply the gloss to a good night for the Caps in a 4-1 result.
Manchester looked to make it a Scottish double as they travelled to take on Dundee Stars on Sunday, but the Tayside men took the points in a 3-2 victory.
Mikael Lidhammar opened the scoring in the first period before Trevor Johnson's powerful shot from the blue line flew past Joe Fallon to level the game.
Stars restored their lead through Matt White, who scored early in the second period then he added a third to make their advantage a little more secure.
Johnson struck again with two seconds to go, but it wasn't enough as Storm left Scotland with nothing to show for their efforts.
Weekend results
Saturday
Elite League:
Braehead Clan 6-3 Fife Flyers
Manchester Storm 4-2 Edinburgh Capitals
Sunday
Elite League:
Edinburgh Capitals 4-1 Coventry Blaze
Dundee Stars 3-2 Manchester Storm
Challenge Cup:
Fife Flyers 2-6 Braehead Clan