BBC Sport - World Snooker Championship: Stuart Bingham's blunder against Ken Doherty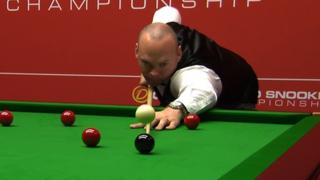 Bingham's embarrassing blunder
Watch Stuart Bingham chip the cue ball over the black and into the pocket during his match with Ken Doherty at the Snooker World Championship.
Commentator Terry Griffiths says "that's the worst thing that can happen to a professional player" as Bingham's error cost him a good position on the table.
But Bingham came back to take the frame 63-52.