Rio 2016 Olympics: Adcocks in eight-strong badminton squad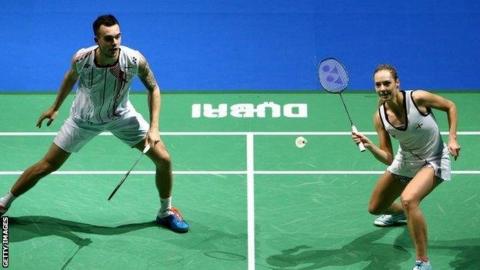 Chris and Gabby Adcock are part of Britain's eight-strong badminton squad for this summer's Rio Olympics.
The husband and wife team compete in the mixed doubles and won gold at the 2014 Commonwealth Games in Glasgow and claimed the World Superseries Finals title last December in Dubai.
Rajiv Ouseph and Kirsty Gilmour will play in the men's and women's singles.
Marcus Elliswill and Chris Langridge are in the men's doubles with Heather Olver and Lauren Smith in the women's.
Britain have won two medals in badminton since its inclusion as a full-medal sport in 1992 with Simon Archer and Joanne Goode taking bronze at Sydney 2000 before Gail Emms and Nathan Robertson won silver four years later in Athens.
Team GB's Chef de Mission Mark England said: "There is plenty of talent in this squad and on their day any of these athletes can challenge the best in the world so we're looking forward to seeing them in action this summer."
Rio 2016 team:
Rajiv Ouseph (Men's singles)
Kirsty Gilmour (Women's singles)
Gabby Adcock (Mixed doubles)
Chris Adcock (Mixed doubles)
Chris Langridge (Men's doubles)
Marcus Ellis (Men's doubles)
Lauren Smith (Women's doubles)
Heather Olver (Women's doubles)