Kobe Bryant is about to set another NBA record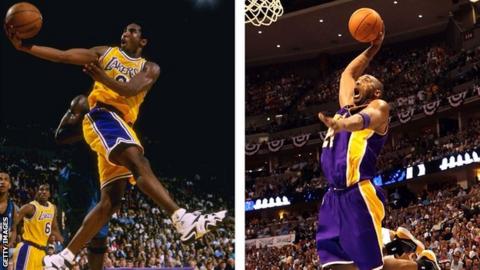 There may well be tears in Los Angeles on Monday night when basketball legend Kobe Bryant becomes the first NBA player to have two different numbers retired by the same team.
At half-time during the LA Lakers' home game against defending champions Golden State Warriors, Kobe's #8 and #24 jerseys will head up into the rafters as part of a special celebration.
And if that wasn't enough, the Lakers will also be hosting a Kobe-themed street festival dubbed "Kobeland" outside the Staples Center in LA. Yep, it's going to get emotional.
The five-time NBA champion will become the 10th Lakers player to have his number retired, joining Wilt Chamberlain, Elgin Baylor, Gail Goodrich, Magic Johnson, Kareem Abdul-Jabbar, Shaquille O'Neal, James Worthy, Jerry West and Jamaal Wilkes.
But no player has ever had two different numbers retired by the same team.
This content will not work on your device, please check Javascript and cookies are enabled or update your browser
Bryant's NBA career started in 1996, when he wore the #8 jersey. It was the number he wore during his childhood in Italy and also a nod to the number he wore at the Adidas ABCD Camp, 143 (we're sure you already noticed those digits add up to eight).
And even though switching numbers was never on the agenda, he claims he made the move to #24 as a "kind of a clean slate".
"I started new. Just start completely fresh, focus on the number that meant a lot to me," he added.
He's a fan favourite, so it's set to be an emotional evening to say the least...
Get the tissues ready...