BBC Sport - Swimming stars give their thoughts on exciting Duel in the Pool finish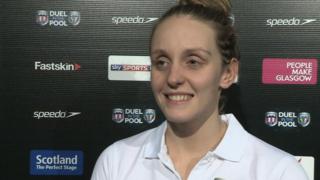 Reaction to exciting Duel in the Pool
European Allstars' Fran Halsall, Michael Jamieson, Hannah Miley and Team USA's Tyler Clary and Katie Ledecky give BBC Sport's Nick Hope their thoughts on the "exciting" finish to the Duel in the Pool.
Team USA won the event, which was tied 131-131 after the scheduled 30 races, by taking the mixed-relay tie-breaker to prevail in Glasgow.
The Americans needed a world-best time of one minute and 37.17 seconds to beat the Europeans by just 0.2 seconds.