BBC Sport - Chad Le Clos predicts 'clash of the titans' against Michael Phelps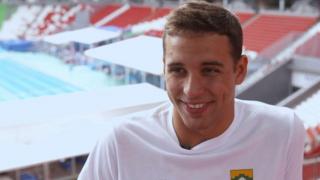 Le Clos predicts 'clash of the titans'
Chad Le Clos tells BBC Sport's Nick Hope it will be a "clash of the titans" between himself and Michael Phelps come the 2016 Olympics in Rio de Janeiro.
Le Clos, who beat Phelps in the 200m butterfly final at London 2012, won the 100m World championship title in Kazan, Russia, last week - but in a slower time than the American recorded at the US nationals.
The American was unable to compete in Russia having been banned by the USA Swimming team following a drink-driving offence earlier in the year.