Michael Jamieson to decide on future after Rio Olympics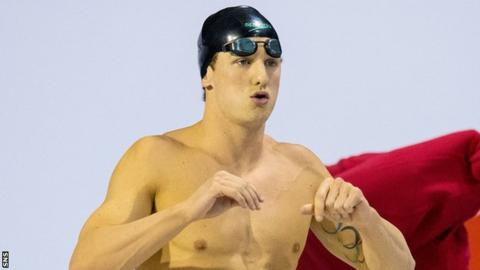 Olympics silver medallist Michael Jamieson will make a decision on his swimming future after the Rio Games.
The 27-year-old will be in Rio working for the media but will not be competing after finishing fifth at the GB trials.
Jamieson won 200m breaststroke silver at London 2012 and says his decision will hinge on whether he feels he can still be "involved at the sharp end".
"If I think I can still challenge for major medals I'll continue. If not, I think it'll be time to call it a day."
Jamieson was the lone male British swimming medallist in London, with Rebecca Adlington's two bronzes making up the GB tally.
The Scot saw no reason why he could not continue to thrive at the highest level and relished his poster-boy status for the Commonwealth Games in his native Glasgow in 2014.
Gold was the target, but he had to settle for silver behind Ross Murdoch.
It was a difficult time for Jamieson, who had suffered a heart scare while training ahead of the Games in Glasgow.
"After London, I would never have imagined that I'd be in this position, not going (to Rio) as a competing athlete," he told BBC Scotland.
"It has been difficult. I'm an athlete, I love competing. You want to be involved in the Olympic Games, it's the biggest stage in our sport.
"But life throws you curve balls now and then. The standard is so high just now, especially in the breaststroke events. There's so many guys knocking on the world's best and that showed at the British trials."
Jamieson finished behind England's Andrew Willis, a surprise winner, and fellow Scots Craig Benson and Murdoch in the 200m breaststroke at the Olympic trials, held in the same Tollcross International Swimming Centre in Glasgow used for the Commonwealth Games.
He indicated in the immediate aftermath that he may retire after failing to qualify.
"There's three, four, even five guys that are capable of making the Olympic final in Rio had they been given the opportunity, but obviously there's a two per nation rule, the same for everyone."
At this point, Jamieson becomes quite reflective. "I think, for me, I've had an incredible career, it's been amazing," he said.
"I'm still doing a lot of training, still keeping in shape and keeping my options open, but the longer I spend away from it, the more I'm having a shift in perspective in realising how privileged I've been throughout my career.
"For now, I'm really enjoying having a few other aspects to work on. Being involved in the Games from a broadcasting side is a really exciting opportunity for me as well.
"But, in terms of my swimming, I'm trying not to think about that. Whenever I speak to the guys, my team-mates over the years, and see how their preparations are going, that's when I start to feel disappointed not to be competing.
"So, until the Games are finished, I'll just ignore those thoughts for now and just enjoy the experience and enjoy being there."
'I love sport - the lifestyle, the travel, the competition'
After failing to make the GB team for the World Championships in Kazan last year, Jamieson decided to try to kick-start his career by moving away from his training base in Bath - home for the previous five years - and joining Edinburgh University late last year.
It did not pay off in terms of his Rio ambitions, and he will now see at first hand the level of competition before deciding whether to return to competitive swimming.
"Once I see the results, the kind of times that are being posted around the world, when the dust settled after the Games, I'll sit down with the team coaching staff, team-mates, family and friends and start thinking about making a decision," he added.
"I love sport. I love the lifestyle, I love the travel, the competition element and, most of all, the training. And that's the thing that I've really struggled with over the last year - I'm just not able to get the same out of my body as I was a few years ago.
"So that's obviously a huge factor. I want to be involved at the sharp end and challenging for medals and I guess that's what it going to boil down to."
'Doping unfortunately is a huge part of sport now'
While Jamieson ponders his own future, he will be giving his opinions and insight as part of the BBC's coverage of the Games.
The issue of drugs - and specifically the recent allegations of state sponsored doping in Russia - have dominated the build-up, and Jamieson admits he finds that aspect "frightening".
Speaking before the International Olympic Committee's decision not to issue a blanket ban against Russian athletes, he believes it is time to tackle the issue "head on".
"It's a pretty dark time for sport just now," he admitted. "There's been so many reports coming out and the number of failed tests just keeps on increasing.
"For so long, we've tried to sweep it under the carpet and not really acknowledge the problem. But doping unfortunately is a huge part of sport now and we need to tackle it. We need to educate people.'
"I don't even know how some of the athletes will be preparing for Rio. It's got to be difficult to stand up behind your starting block knowing that you're competing and racing, maybe even this summer, against people who have served bans and have subsequently come back to perform."