Dan Wallace: Olympic swimmer loses elite podium funding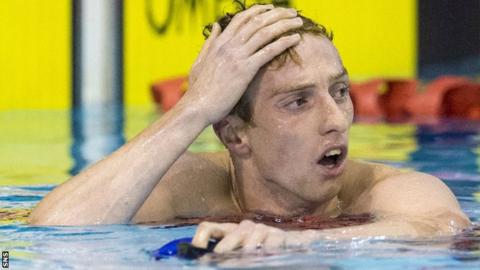 Olympic silver medallist Dan Wallace has lost his elite podium funding.
Wallace, who won 4x200m freestyle relay silver at Rio 2016, was suspended for three months by British and Scottish Swimming in June after drink-driving.
At the time, the 24-year-old Scot expressed regret for letting himself, his family and his team-mates down.
Scottish commonwealth champion Ross Murdoch has had full funding restored, while Nick Grainger, Calum Jarvis and Sarah Vasey have top level funding.
Fifty-six athletes across Podium (19) and Podium Potential (37) have been selected to the World Class Performance Programme for the 2017/18 season.
The Scots selected for the podium programme are: Ross Murdoch, Stephen Milne, Kathleen Dawson, Hannah Miley and Duncan Scott.
Murdoch has had full funding restored after encouraging performances at this summer's World Championships. The European 200m breaststroke champion lost elite podium funding last year after a disappointing Rio Olympics.
Chloe Tutton and Andrew Willis - who were both fourth in Rio, but then failed to qualify for 2017 Worlds drop from elite to the lower level 'podium potential' support.
Individual medley swimmers Miley and Aimee Willmott retain top-level support but the situation will be reviewed after the Commonwealth Games in April pending a decision on their long-term futures in the sport.
'Set sights on Tokyo'
"The sport enjoyed a successful 2017 but we know that our aims and ambitions don't end there," said British Swimming's national performance director Chris Spice.
"This year's investment is going to enable our talented swimmers to continue to achieve their performance targets as they set their sights on Tokyo 2020."
In May 2014, Wallace, a former Warrender Baths Club swimmer was arrested in Florida - where he was attending the state university - for urinating on a police car.
Later that year, Edinburgh-born Wallace became widely known for his yell of "for freedom" when he set a British record to win the 400m individual medley for Scotland at the Commonwealth Games in Glasgow.
He said at the time it was a "spur-of-the-moment thing", inspired by the film Braveheart, and nothing to do with the vote on Scottish independence that was soon to follow.
Dan Wallace's achievements in the pool
2014 Commonwealth Games, Glasgow: 400m individual medley, gold; 200m individual medley, silver; 4x200m freestyle relay, silver
2015 World Championships, Kazan: 4x200m freestyle relay, gold
2016 Olympics, Rio: 4x200m freestyle relay, silver