England draw Germany in men's World Team Championships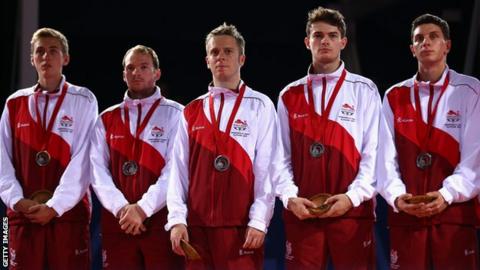 England's men have been drawn against second seeds Germany and hosts Malaysia in the group stage of the World Team Championships.
It is the first time since 1997 that England have featured in the top-tier Championship division.
Eighteenth seeds England join Group B, which also features eighth seeds Sweden, France (9) and Denmark (16).
The hosts of the tournament - held in Kuala Lumpur from February 28 to March 6 - are ranked 24th.
Three of England's four-man squad - Liam Pitchford, 22, Paul Drinkhall, 26, and Sam Walker, 20 - were in the team that earned promotion from Division Two in the corresponding event in Tokyo two years ago. They are joined by Andrew Baggaley, 32.
All four won team silver medals for England at the 2014 Commonwealth Games in Glasgow.
Top seeds China dominate the men's game, having won the last seven World Team Championships. England's sole team success came in 1953.
The England women's squad of Kelly Sibley, 27, Tin-Tin Ho, 17, and Karina le Fevre, 23, will play in Group E in the Second Division, against Serbia, Canada, Belgium, Turkey and New Zealand.